The 'new customer experience reality.' This may be the new black, the new hot digital goal, at least according  to 7,002 global respondents to the EConsultancy/Adobe Quarterly Digital Intelligence Trends Briefing.
To be honest, the newly-published report focuses on a digital utopia, unrealized due to the multidimensional reality of  poor collaboration across departments, and a lack of cultural shifts or ample staffing required to meet the customer experience charge. And nowhere is this reality more deafening than in the health and wellness arena.
Let me take a step back and explain my skepticism.
As the Briefing aptly points out, a focus on customer "experience…only work(s) if businesses can create and deliver..content efficiently and effectively." Accordingly,  a reported 94% of survey participants recognize the need to improve the process(es) behind content creation and delivery but may lack the knowledge to make it happen.
Where to start???
Data should comprise the framework driving any and every interaction with a potential or current customer. Data must also be the driving force behind any content strategy. However, take a look at the Intelligence Briefing results with regard to the obstacles surrounding data and the customer experience: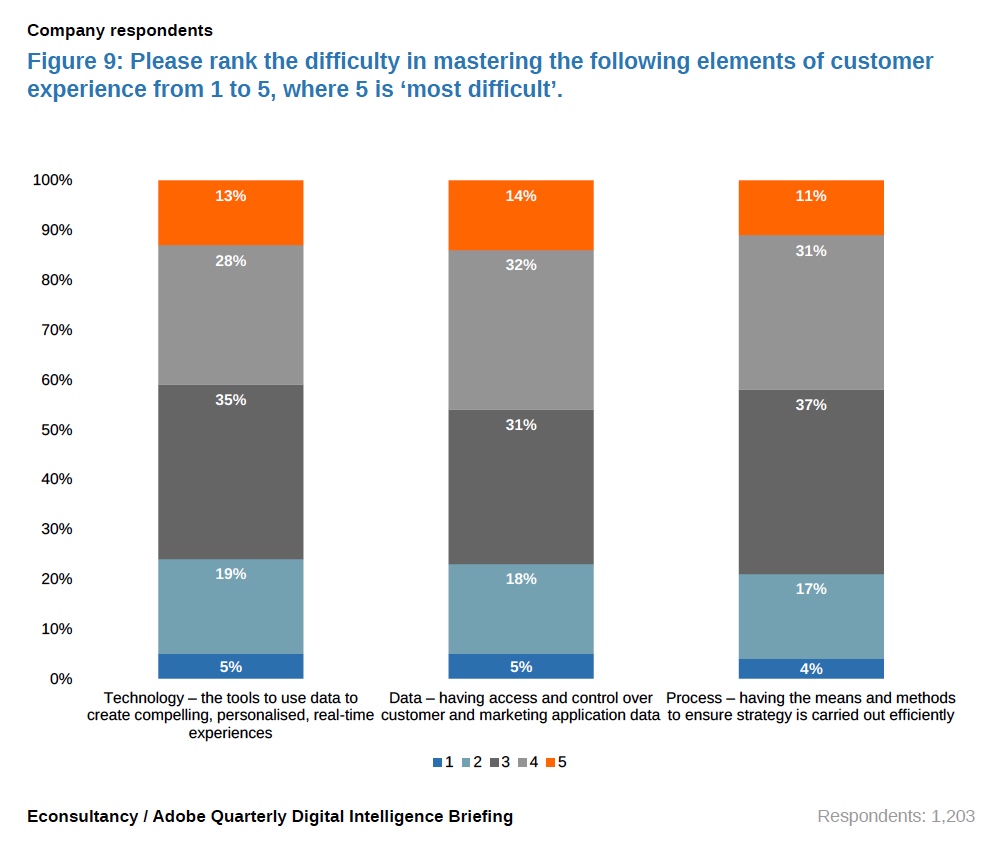 The results point to several key areas where companies, albeit dedicated to the customer experience, lack the skills, understanding and usage. And when you consider that the health and wellness space has by and large been dominated by product versus solutions messaging, the call to patient or consumer-centric action (experience) is continues to fall on deaf ears.
So, where can health and wellness companies with rigid cultural and regulatory constraints, siloed departments and overstuffed data depositories overcome some of their inherent obstacles? With email, of course.
Email marketing is something that health and wellness companies have been doing for decades. For the most part, however, these companies may be aiming too high, placing what they perceive is an immediate need for multiple marketing channels and cross-channel integrated customer experience above channel proficiency. This means that they are missing important opportunities to encourage positive customer experience at the same time that culture and process(es) deficits are being addressed.
Silverpop's 2015 Email Marketing Metrics Benchmark Study recommends that companies transcend traditional benchmark quotas (such as how a particular email program may outperform the competition and where improvement is needed) and set their sights on determining if the goals for any particular campaign exceed, meet or fall short of business goals. An additional metric worthy of consideration is how more innovative approaches can enhance and optimize customer/prospect relationships.
Key goals to keep in mind:
Demographics matter! Use subscriber behavior/patterns to modify and personalize email content. Track which subject lines or email types certain customers/prospects open more frequently to hone messaging. However, be mindful that open rates are not the end all to be all as they don't capture image blocking or other factors that might influence metrics.
Make transactional messaging a goal and not an afterthought. Transactional emails refer to emails that are triggered in response to consumer behavior or a particular action. They are used to broaden and enhance engagement and are more experientially targeted, if you will. Data suggest transactional emails generate both higher open and click through rates. Healthcare companies can step up their game by offering solutions-based content in response to a purchase or sign-up, such as a link to "how to" videos or incentive clubs. The inherent lesson here is that richer, more robust content drives interest, loyalty and advocacy. When it is personalized, it creates an even greater incentive to dive deeper. Think solutions not sales, and offer best practices tips or industry news for professionals. Truly, a little context can go a long way.
Think and do dynamic. Many health and wellness companies spend so much time trying to figure out the digital space that they pay less attention to the what, when and why. This is the crux of any content strategy and I would argue, any email marketing campaign. Consider the types of emails you are sending, when you send them and why are you send them. In addition to transactional content goals, use responsive design. Emails should be designed to automatically detect screen size, orientation and adjust accordingly. If you are seeking to improve opens and click throughs, the entire customer experience is critical, especially since the majority of emails are now opened on a mobile phone or tablet.
Finally, aiming high isn't a bad thing. Ultimately, however, gaining mastery over one channel at a time will serve up the best customer experience and allow for internal processes and staffing to catch up.